5th year of the international Conducting Competition - ENCOUNTERS OVER THE CHORAL SCORES
→ Encounters Over the Choral Scores 2020 May 13, 2021 in Banská Bystrica
Encounters over the Choral Scores is the name carried by the international competition in choir conducting organized by the Department of Composition and Choir Conducting of the Faculty of Performnig Arts, Academy of Arts in Banská Bystrica. The main idea of this exceptional project – one of its kind in Slovakia, is to unite young and inspired professional, as well as non-professional, conductors, and to enable the enrichment of their experience in Choral Art through participating in our competition and workshops.
Since its first year, the international competition has not only hosted a large amount of competing conductors from Slovakia, but has also welcomed and promoted the participation of those from other countries, mainly from the Czech Republic, Poland, and Serbia. Every year, we are hosting a number of excellent choirs, which assist the participants in rehearsing for the second round of the competition, and at the same are available during the workshops. Furthermore, it is the international jury, composed of leading personalities in choir conducting, that determines objective evaluation of participants' performance. Among the jury members are such professionals as Prof. Adam Korzeniowski from Poland, Prof. Tamáš Laknér from Hungary, Jan Ocetek from the Czech Republic, Milan Kolena from Slovakia, and, naturally, the faculty members from the Academy of Arts in Banská Bystrica – Prof. Miroslawa Knapik, Pavol Procházka, and others.
The fifth – jubilee year of the competition offers several improvements which we believe make it more attractive. One of the novelties is interesting financial awards for the winners, another one is the opportunity for more conductors to participate in our competition, due to a brand new categorization of participants, which we are introducing this year.
Prof. Štefan Sedlický, who is the guarantor of the international conducting competition, conducts and leads several top Slovak choirs, and, at the same time, is a faculty member of the organizing institution – Faculty of Performing Arts of the Academy of Arts. Since the very beginning of the competition, it has been the Academy of Arts, along with the Arts Fund, who have acted as the organizing institutions and the providers of finance.
→ Application
→ The competition regulations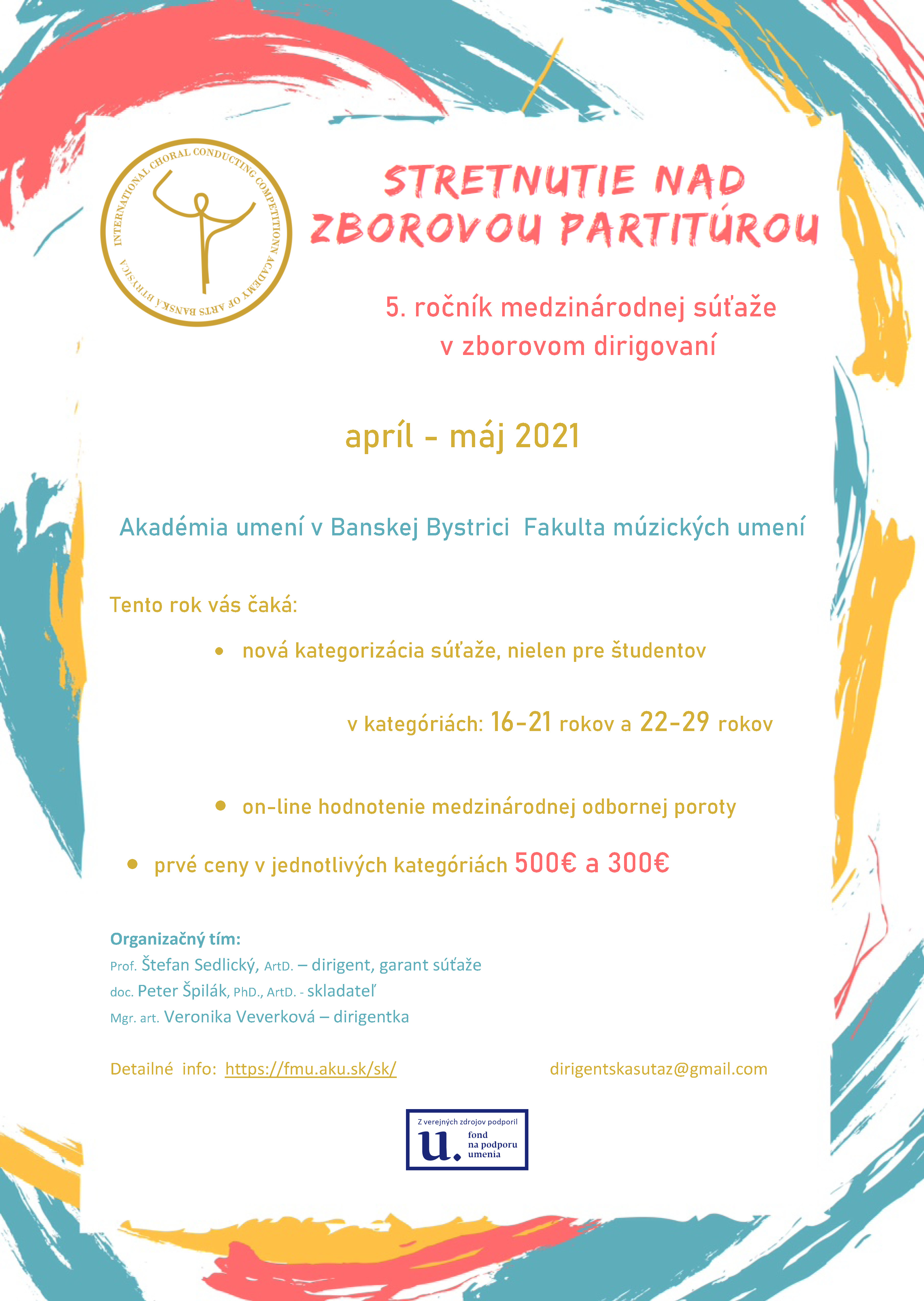 BRADY ALLRED – U.S.A

Dr. Brady Allred just celebrated his seventeenth season as Artistic Director and Conductor of the Salt Lake Choral Artists, an organization of seven choral ensembles with "an international reputation for excellence." Honored as "one of Utah's Top 25 Cultural Power Brokers," he has recently guest conducted, adjudicated, and given master classes in twenty countries throughout Europe, Asia, South
America, Africa, and the Middle East. He is a winner of the European Grand Prix, two First Prizes and the Conductors Prize at the Marktoberdorf International Chamber Choir Competition, and numerous first prizes in Tolosa and Arezzo. He has been a guest conductor for the Schumann Chamber Orchestra in Italy, Wroclaw Philharmonic in Poland, Symphonic Orchestra of the Russian Ministry of Defense, Oslo Voices, Taipei Youth Choir, the National Youth Choirs of Sweden, Norway, and Estonia, Tuks Camerata, Akustika Chamber Singers, the Gondwana National Choirs, the Rainbow Chamber Singers and Youth Choir of Shanghai, and the Salt Lake Mormon Tabernacle Choir
Dr. Allred was Director of Choral Studies at the University of Utah, Director of Choral Activities at Duquesne University, Conductor of the Butler Symphony Orchestra, Artistic Director and Conductor of the Bach Choir of Pittsburgh, and performer with the Robert Shaw Festival Singers and the Oregon Bach Festival Chorus.
Dr. Allred earned his Master of Music and Doctor of Musical Arts in Conducting degrees from the Eastman School of Music, and his undergraduate degree in Theory/Composition and Flute
Performance from Brigham Young University.

LEON TONG - China

Founder and President of World Youth and Children Choral Artists' Association (WYCCAA), Former First Vice-President of International Federation for Choral Music (IFCM), Prof. Leon Shiu-wai Tong is an internationally renowned choral expert, conductor, speaker, juror, and curator of world-class choral festivals. Currently the Artistic Director of Guangzhou Children's Palace Choir, China, Tong was former Music Director & Principal conductor of the Hong Kong Children's Choir (-1997) and Artistic Director & Principal Conductor of the Hong Kong Treble Choir (-2020).
As President and Chairman of the Artistic Committee, Tong has organized many global events with WYCCAA, including the 2019 World Choral Conducting Competition, World Youth & Children's Choir Festival (in 2019, 2017 & 2015), 2018 Belt & Road World Choir Festival, and the Hong Kong International Youth & Children's Choir Festival (in 2013, 2011, 2008 & 2006). In 2008, he curated with the Olympic Committee of Hong Kong "The World Sings for Olympics" concert, in which the World Youth Choir (whose choristers came from over 36 countries and regions) was also invited to perform. In 1998 & 2001, with the Hong Kong Treble Choir Association, he organised the 1st and 2nd China International Children's Choir Festivals respectively, followed by the World Children's Choir Festival and the world-renowned Songbridge Programme in 2005.
He is also frequently invited to adjudicate at internationally acclaimed choral festivals and competitions, including competitions under the European Grand Prix for Choral Singing Association, and was the only foreign juror at the 67th NHK All-Japan School Choir Competition. As an expert who currently holds several guest professorships in a number of universities in China, Tong has received a number of awards for his contribution to choral music nationally and internationally, including the China Treble Choir Contribution Award in 2004 (from China Chorus Association) and the Award for Arts Achievement (Music) in 2007 (from Hong Kong Arts Development Council).

MARTIN BERGER – Germany

Martin Berger is one of the most popular, versatile and successful German choir conductors and combines artistic practice and academic research at a high level.
Martin graduated in church music, music education, musicology, German literature and choral conducting. During his time as Director of Music at Würzburg Cathedral (2002-2013) he developed the Cathedral music to one of the foremost institutions of its kind in Germany. As a professor of choral pedagogy at the Robert Schumann Hochschule in Düsseldorf he taught and further developed modern teaching methods for choral music.
Martin won the international choral competitions in Malta (2007) and the Franz-Schubert-Choir competition in Vienna (2008) with the chamber choir he founded at Würzburg Cathedral. In 2014 he founded the Stellenbosch University Chamber Choir (South Africa). Concert tours have taken him to almost all European countries, Australia, China, South Africa and the United States. He regularly appears as guest conductor for professional choirs and orchestras.
Martin is an internationally sought-after masterclass-leader, guest lecturer, adjudicator, and scholar. His regular international commitments include the Vice-Presidency of the World Youth and Children's Choral Artists' Association (WYCCAA), the membership of ISME (International Society for Music Education) and ISPME (International Society for the Philosophy in Music Education). Martin is regularly invited as a guest lecturer and guest speaker at international conferences.

TAMÁS LAKNER - Hungary

He studied choir conducting in Budapest at Liszt Ferenc Academy of Music. His DLA thesis was dedicated to The post- Kodályian children's choir literature in Hungary. Currently he is professor of choral conducting at the Pécs University of Sciences, teaching Kodály methodologhy and choral conducting. With his choirs Bela Bartók Male Choir, the Pannonton University Choir and the Bach Vocal Ensemble and Univerity Choir of Pécs, he has won 63 prizes at different international choir competion.
Béla Bartók Male Choir has several recordings, including: Zoltán Kodály – Choral Works For Male Voices (complete), as world premiere by Hungaroton Classic. Tamas Lakner is a sought-after jury member and popular workshop-leader at international choral events. His lectures abroad cover a broad range of choral topics, such as, "The modernity of Kodály's music pedagogy" (University of Columbia of Canada, University of Buenos Aires, University of Sao Paolo), "Coherence and relationship between the choral art and pedagogy of Kodály"(San Jose University of Mendoza, Argentina)"Development of the personality trought the choral art of Kodály"(Konstantin University, Nitra, Slovakia), "Kodály compositions for male choirs" (ACDA. Minneapolis, USA and BeiHang University, Beijing, China))
In addition to other acknowledgements, Tamas Lakner is decorated with Bartók Memorial Plaquette and Liszt-Award, the highest recognitions for choral musicians in Hungary.
He is founder and artistic director of the Pécs Cantat and European Convivial Wine Song Festivals.
He is the Dean of the Faculty of Music and Visual Art.
In 2020 he was decorated with high state medal.

MILAN KOLENA - Slovakia

Assoc. prof. Milan Kolena Milan Kolena is a conductor, artistic director of Bratislava Music Festivals, Associate Professor of choral conducting and Gregorian Chant at the Academy of Performing Arts in Bratislava. With his choir Apollo and Schola Gregoriana Bratislavensis Milan Kolena visited many prestigious choral competitions. In 2014 he gave lectures at three American universities: Illinois Wesleyan University School, University of Missouri School of Music, Colorado State University. He frequently works as a member of the jury at various international choral and orchestral competitions


in Slovakia, Europe and Asia. He was awarded the best conductor special prize of the "Singing World" choral competition in St. Petersburg, Russia in 2015. In the same year he held choral workshops in China and Hong Kong.

He is a member of the International Council of the World Choir Games and Vice President World Youth and Children Choral Artists' Association. In 2018 he received the first place with his Apollo choir at "Moscow Sounds" Festival in Folk Music category and a Grand Prix for Sacred Music category